The Time Is Now
Released March 2013
The Time Is Now is my first studio release since 2007 and I'd like to think it was worth the wait! (Hopefully others will too!) Recorded entirely here at my home in Duluth, MN, I played everything on the CD: guitars, ukulele, harmonica, bass, piano, percussion (and more) and includes some guest vocals from our son Eric who was 4 at the time! I think this CD gets a bit deeper lyrically than the others (i.e. no goofy beer songs) while still overall staying firmly on The Fun Side Of Life! Oh and the cover art was done by Eric Wahl at age 3!
To buy a copy of The Time Is Now for $13.99 (includes tax and shipping) just click on the Buy Now button:
Song Samples:
1. The Time Is Now.mp3
2. Leave A Little Room.mp3
3. When Lauren Smiles.mp3
4. It's About Love.mp3
5. A Sunny Place.mp3
6. In My Son's Eyes.mp3
7. Just One More Time.mp3
8. I Like The Look Of Today.mp3
9. Just Look At The Lake.mp3
10. Private Paradise.mp3
11. The Answer Is Faith.mp3
12. Rolling Along.mp3
13. Maybe It Rained.mp3
14. Somewhere In The Sun.mp3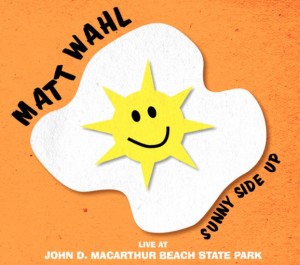 Sunny Side Up
Released May, 2009
I've wanted to do a live CD for many years. Sunny Side Up, recorded live at John D. MacArthur Beach State Park in North Palm Beach Florida in March of 2009 is my first attempt at recording and releasing a full Matt Wahl concert.
When I play live, the audience interaction and the stories between the songs are as much a part of the show as the songs themselves. Sometimes I write a song just so I can tell the story!
So here it is, Sunny Side Up! My 6th CD of original songs (and a couple covers) complete with songs, stories, mistakes and all. This is me live, with just a guitar and a wonderful audience!
Enjoy!
Matt
(Song samples are below. Please note that on these samples, I included the intros with the songs so you get an idea of how the CD sounds. On the actual CD the intros are on separate tracks so you can hear them if you want or skip them if you don't.)
The Answer Is Faith (Live).mp3
Once In A While (Live).mp3
The Fun Side Of Life (Live).mp3
Find My Smile (Live).mp3
Let's Talk Dirty In Hawaiian (Live).mp3
Slow Dance In The Sand (Live).mp3
A Fun Song About Good Stuff (Live).mp3
Echoes Of Laughter (Live).mp3
I Get To Choose (Live).mp3
Orange Blossom Special (Live).mp3
Sunshine State Of Mind (Live).mp3
Like A Beer Commercial (Live).mp3
Lighten Up (Live).mp3
Toe Prints (Live).mp3
My Toughest Audience (Live).mp3
Sunny Side Up (Live).mp3
I'm Not Gonna Worry (Live).mp3
Just One More Time (Live).mp3
That's Color I Understand (Live).mp3
The Home Depot Song (Live).mp3
Two Chairs (Live).mp3
They Lived For Love (Live).mp3
Superhero At Heart (Live).mp3
Rainbow Connection (Live).mp3
Hold My Beer Watch This (Live).mp3
Enjoy Yourself (Live).mp3
Sunny Side Up (Studio Version).mp3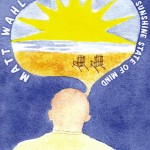 Sunshine State of Mind
2007
The Fun Side Of Life
2005